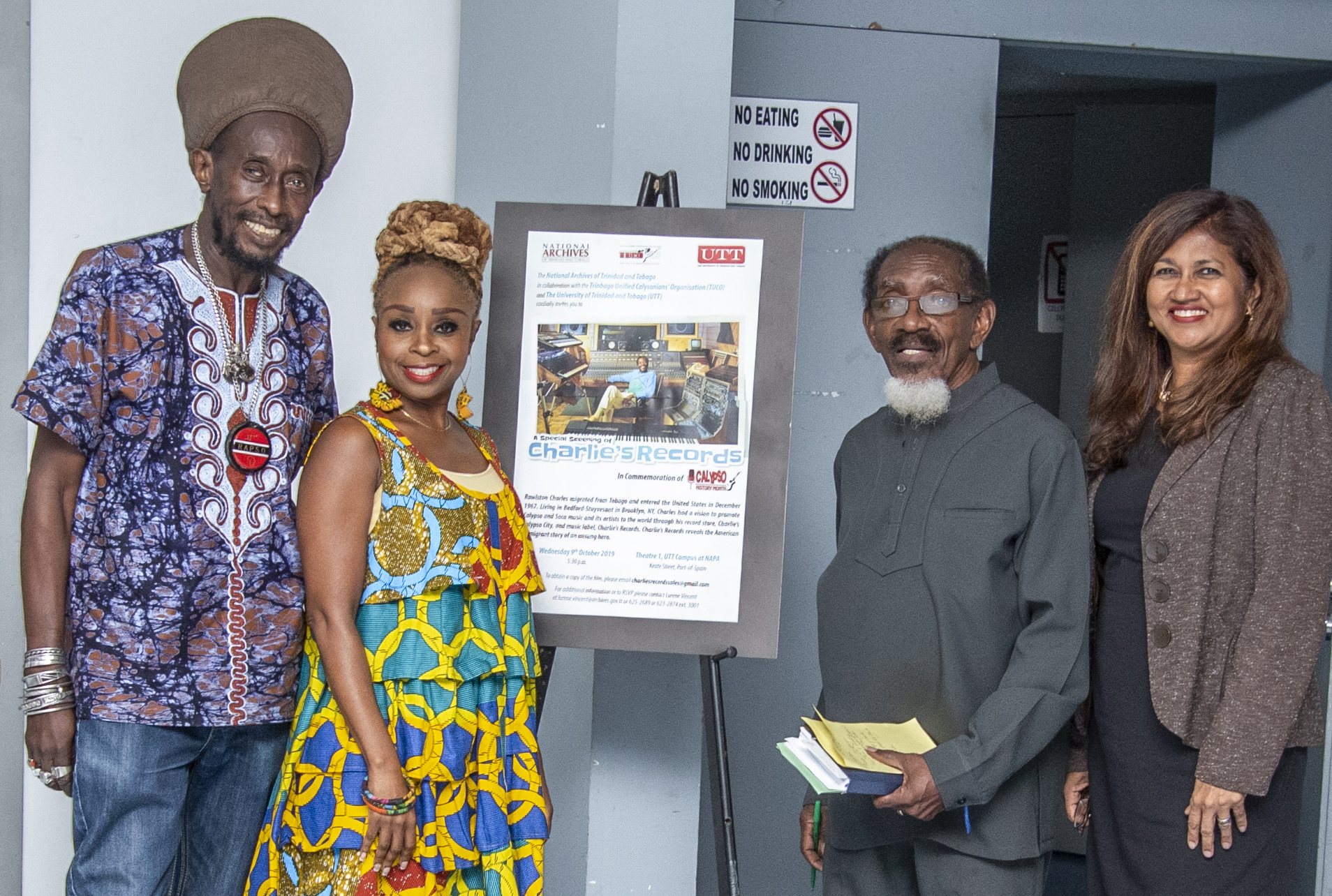 In photo above (L -R): Lutalo Masimba, President, and Meagan Sylvester, Education and Research Officer, Trinbago Unified Calypsonians' Organisation (TUCO), Professor Hollis Liverpool, University of Trinidad and Tobago (UTT) and Roma Wong Sang, Senior Archives and Records Officer, National Archives, at the special screening of Charlie's Records at UTT.
Photo courtesy Ghansham Mohammed, UTT.
In 2002, the Trinbago Unified Calypsonians Organisation (TUCO) designated October as Calypso History Month to commemorate those who have made contributions to the development of calypso music and culture in Trinidad and Tobago throughout the years. To celebrate the month this year, the National Archives collaborated with TUCO and the University of Trinidad and Tobago (UTT), to host a free screening of the film "Charlie's Records" at UTT's Campus, Theatre 1, National Academy for the Performing Arts (NAPA) in Port of Spain.
The film tells the story of Rawlston "Charlie" Charles, who promoted calypso music in the USA and who produced hits by some of the greatest names in calypso such as Ras Shorty I, Explainer, Superblue, Calypso Rose, Kitchener, Shadow and Sparrow. The film, directed by the star's daughter, Tina Charles, premiered at the 2019 Trinidad and Tobago Film Festival where it won the "Spirit of the Caribbean" People's Choice Award.
Professor Hollis Liverpool of UTT--known widely by his calypso sobriquet, The Mighty Chalkdust—addressed the audience at the opening of the screening, recounting Rawlston Charles' passion for creating community around calypso music and for his commitment to expanding the genre's audience overseas. Professor Liverpool then thanked Mr. Charles for his early investment in the industry, which led to the improvement of music recording in Trinidad and Tobago. "Charlie was a very poor young boy from Tobago and he decided to put some money into music—and not just music but the recording of music" he said.
Following Professor Liverpool's address, the President of TUCO, Mr. Lutalo Masimba—known popularly as Brother Resistance--highlighted the importance of Calypso History Month, saying that it was specifically designed to create a new atmosphere for the appreciation of calypso music.
"We felt it was important to do things outside of Carnival, to create moments like these whereby we can encourage the population, calypso lovers and researchers to embrace and become part of a new calypso movement" he said. "We need to celebrate Charlie and others like him who took the risk upon themselves to invest their own money to make this music—a music that is respected…That's why we're here today."
To obtain a copy of the film, Charlie's Records, please email charliesrecordssales@gmail.com
For a full schedule of events for Calypso History Month 2019, please visit TUCO's Facebook page, email at tucocalypsott@yahoo.com or call  623-9960 or 625-1629