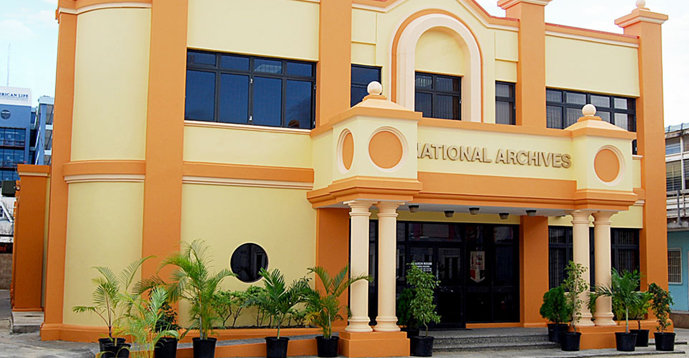 Growth of the Division
The 1990's brought several changes. Previously the Archives shared the compound with the Sacred Heart Girls' R.C. School whose building had been destroyed by fire. Their departure in 1990 created much needed additional space. The Search Room could now accommodate over one dozen researchers compared to five (5). The Conservation Laboratory was moved to a larger area. Space was allocated for a computer room, an audio visual room and additional storage areas for materials and supplies. In 1991 the National Archives acquired a new Record Centre at Chaguaramas for housing the secondary records of various Government Departments. Staff received training under an Archives Development Project in 1992 with UNDP (United Nations Development Programme). This programme included practical training and covered the following areas: - Paper/Document Preservation and Restoration, Microfilming and Audio Visual Archives. During this period the Archives acquired computer equipment for commencing computerization of activities. Audio Visual equipment was also acquired for the establishment of an Audio Visual Unit. In 1993 a project for the acquisition of audio visual material was started in conjunction with the Information Division, Office of the Prime Minister. Towards the end of this period the first phase of a National Archives Refurbishment Project began. This resulted in the construction of a new building housing a Search Room, eight (8) strong rooms, a Database Room, and an Audio Visual Room with listening/viewing facilities. In 2000 our Conservation Laboratory staff was increased by nine (9) Assistant Conservators on contract. This led to an increase in the number of restored documents and the acquisition of state of the art conservation equipment. Refurbishment and upgrading is also being done in the Microfilm Unit and Search Room. We continue to upgrade staff and equipment in all areas to keep abreast of changing standards and technology for the care and preservation of archival information.
References
Peters, Edwina. "A Chronology of Archival Development in Trinidad and Tobago." Caribbean Archives 10 (1993): 23-32.